OFDM Timing and Synchronization Method #
This code covers: Timing and Synchronization of OFDM Modems.
OFDM has become a fundamental modulation technique in modern wireless communication systems. It is extensively used in wireless communication systems, such as Wi-Fi (IEEE 802.11a/g/n/ac/ax), 4G/LTE, and 5G networks. It offers efficient spectrum utilization and robustness against multipath fading. However, accurate synchronization of OFDM signals is critical for reliable reception and decoding.
The Schmidl and Cox Algorithm is one solution, enabling precise timing and frequency synchronization in OFDM systems.
Papers #
Results From Code Below #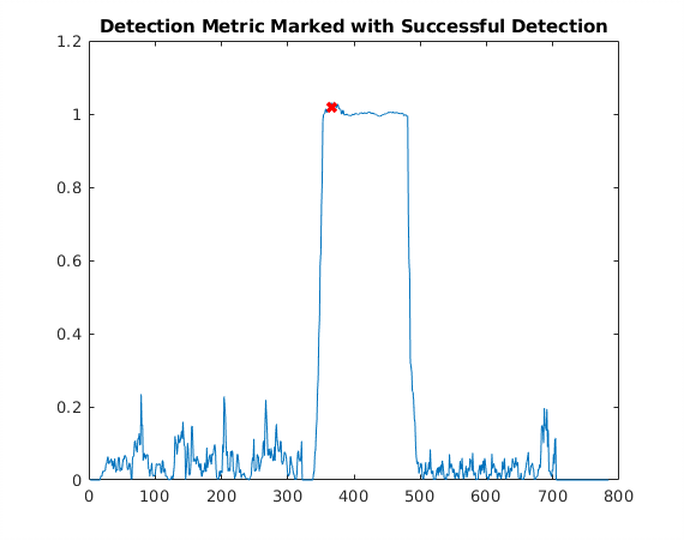 Code #
close all
clear all

BW = 

1e7

;



%parameters for sim




%carrier frequency offset


cfo = 

1000

/

BW;



%noise amp


n_amp =.

01

;



%phase offset


cpo = 

0

;



%channel



chan = [

1

 .

2

+

0.1

i

*

.

02

 zeros(

1

,

32

) .

05

 .

001

+

.

005

j];


%fft length


N=

64

;



%cyclic prefix length


cycPre = 

16

;



%802.11p preambles (PLCP HEADER)


sw1 = sqrt(

13

/

6

)

*

[zeros(

1

,

6

) 

0

, 

0

, 

1

+

j, 

0

, 

0

, 

0

, 

-

1

-

j, 

0

, 

0

, 

0

, 

1

+

j, 

0

, 

0

, 

0

, 

-

1

-

j, 

0

, 

0

, 

0

, 

-

1

-

j, 

0

, 

0

, 

0

, 

1

+

j, 

0

, 

0

, 

0

, 

0

, 

0

,

0

, 

0

, 

-

1

-

j, 

0

, 

0

, 

0

, 

-

1

-

j, 

0

, 

0

, 

0

, 

1

+

j, 

0

, 

0

, 

0

, 

1

+

j, 

0

, 

0

, 

0

, 

1

+

j, 

0

, 

0

, 

0

, 

1

+

j, 

0

, 

0

 zeros(

1

,

5

)];
sw2 = [zeros(

1

,

6

) 

1

, 

1

, 

-

1

, 

-

1

, 

1

, 

1

, 

-

1

, 

1

, 

-

1

, 

1

, 

1

, 

1

, 

1

, 

1

, 

1

, 

-

1

, 

-

1

, 

1

, 

1

, 

-

1

, 

1

, 

-

1

, 

1

, 

1

, 

1

, 

1

, 

0

, 

1

, 

-

1

, 

-

1

, 

1

, 

1

, 

-

1

, 

1

, 

-

1

, 

1

, 

-

1

, 

-

1

, 

-

1

, 

-

1

, 

-

1

, 

1

, 

1

, 

-

1

, 

-

1

, 

1

, 

-

1

, 

1

, 

-

1

, 

1

, 

1

, 

1

, 

1

 zeros(

1

,

5

)];



%CREATE SHORT SYNC WORD (SYNCWORD1)


pre1 = ifft(sw1,N);
syncword1= [pre1(

33

:

64

) pre1 pre1]; 

%CYCLIC PREFIX





%CREATE LONG SYNC WORD (SYNCWORD2)


pre2 = ifft(sw2,N);
syncword2 = [pre2(

33

:

64

) pre2 pre2]; 

%CYCLIC PREFIX





%CREATE RANDOM QPSK DATA TO SEND


qpsk1 = (floor(

2

*

rand(

1

,

26

))

-

.

5

)

/

.

5

 

+

 

1

j

*

(floor(

2

*

rand(

1

,

26

))

-

.

5

)

/

.

5

;
qpsk2 = (floor(

2

*

rand(

1

,

26

))

-

.

5

)

/

.

5

 

+

 

1

j

*

(floor(

2

*

rand(

1

,

26

))

-

.

5

)

/

.

5

;
inputiFFT = [zeros(

1

,

6

), qpsk1, 

0

, qpsk2, zeros(

1

,

5

)];
outputiFFT = ifft((inputiFFT),N);
outputiFFT_with_CP = [outputiFFT(

49

:

64

) outputiFFT]; 

%CYCLIC PREFIX






%construct the signal around some noise


tx = [syncword1 syncword2 outputiFFT_with_CP];
sig = zeros(

1

,

160

);
txall = [sig sig  tx zeros(

1

,

64

)] ;


%pass through channel add noise


noise =n_amp

*

(randn(

1

,length(txall))

+

1

j

*

randn(

1

,length(txall)));
IQ = filter(chan,

1

,txall) 

+

 noise;
nn = [

0

:length(IQ)

-

1

];

w = 

2

*

pi

*

cfo;
ejwn = exp(

1

i

*

(w

*

nn 

+

 cpo));


%apply cfo to the signal


IQ = (IQ)

.*

ejwn;



%APPLY IQ IMBALANCE




%IQ = iqimbal(IQ,2);



figure
plot(real(IQ))
title(

'Received Data'

)

packetFound = 

0

;
C=zeros(

1

,length(IQ));
P=zeros(

1

,length(IQ));
M=zeros(

1

,length(IQ));
L = 

16

;
packetFindReg     = zeros(

1

,L);
packetFindRegDly = zeros(

1

,L);
detectCnt = 

0

;



for

 n= 

1

:length(IQ)

-

80



    

%DETECT PACKET


    

%paper: bottom of Matlabs page https://www.mathworks.com/help/wlan/ref/wlanpacketdetect.html


    

%book : practical implementaiton of OFDM systems


    C(n) = conj(packetFindReg) 

*

 packetFindRegDly.

'

;
    P(n) = packetFindRegDly

*

packetFindRegDly

'

;

    M(n) = (abs(C(n))^

2

)

/

(P(n)

*

P(n));
    

if

(M(n) 

>

 .

8

 

&

 M(n) 

<

1.2

)

          detectCnt = detectCnt 

+

 

1

;
          

if

(detectCnt 

==

 

16

)
              nPacketDetected = n;
              packetFound =

1

;
          

end



    

else


          detectCnt = 

0

;
    

end





    

%update registers


    packetFindReg     = [packetFindReg(

2

:

end

) packetFindRegDly(

1

)];
    packetFindRegDly  = [packetFindRegDly(

2

:

end

) IQ(n)];


end



figure
plot(M)
hold on
plot(nPacketDetected, M(nPacketDetected), 

'rX'

, 

'linewidth'

, 

3

)
title(

'Detection Metric Marked with Successful Detection'

)